GSEB new textbook 2019 pdf download. or Gujarat Secondary and Higher Secondary Education Board has announced major changes in the patterns of Class 10th and 12th exams to be held in March 2020.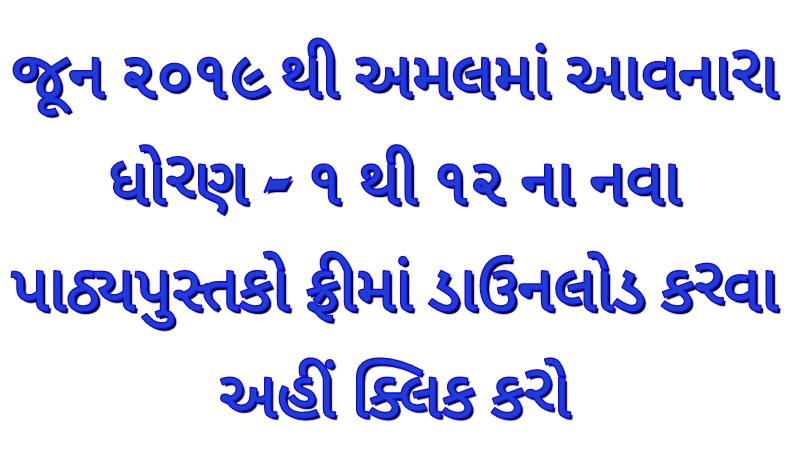 GSEB New Textbook 2019 Pdf Download:
The announcement which was made recently by the Education Minister, Bhupendrasinh Chudasma indicated that the changes in the board exam pattern are being proposed on the lines of Central Board of Secondary Education (CBSE) methodology. GSEB New Textbook 2019 Pdf Download.
According to Chudasma, the changes have been done keeping in mind CBSE exam pattern as the central board has already done away with its comprehensive evaluation of exams.Visit: GSRTC Driver and conductor exam selection list of candidates PDFdownload
Chudasma further added that the new exam pattern will not only enhance writing skills of students but will also help them perform better in top exams such as JEE Main and NEET.
All Std 1 to Std 12 Gseb New textbook 2019 PDF:
Know the key changes announced in GSEB 10th and 12th exam pattern that will be followed from 2020 onwards below:
• Total weightage of a Class 10th board exam will be 80% instead of 70%.
• Each paper of total 80 marks will carry 20% objective questions (16 marks) and 80% subjective questions (64 marks). So you can download Gseb New textbook 2019Visit: Railway Group d exam date 2018 Ahmadabad | RRB Group D exam datedeclared
• School-based comprehensive evaluation will be replaced with internal evaluation which will award five marks each for first exam, notebook submission, subject enrichment activity (that includes a speaking and listening test in languages) and given projects.
• From the current academic session, 2018-19 Class 9th and 11th students will be evaluated internally by schools for 20 marks instead of 30 marks.
• The OMR mode of answering which was used for multiple choice questions (MCQ) carrying 50% weightage will be discontinued. Also, 50% weightage of objective questions will be reduced to 20%.
Download Latest GSEB New Textbook 2019:
It may be noted that Gujarat Board has also introduced NCERT textbooks in all classes except 10th and 12th from the current academic session. The Gujarat Education Department has already directed all government, grant-in-aid and private primary and higher secondary schools affiliated to GSEB to follow NCERT books for Maths, Science and languages for classes 1st to 9th and class 11th from the academic session, 2018-19.Visit: How To Recover Deleted Files from Pendrive & Memory Card:: Pendrive &Memory Card Ke Deleted Files Recover Kaise Kare
Download New TextBook: